Most of the years I've lived in the US since I was married, the places I lived were mostly or completely carpeted. With 4 small children, it is impossible to keep carpets clean. With all my babies learning how to eat and how to go potty, you can imagine what a dismal state our carpets were in. We had a puppy for a while, too, which added to the chaos. Then we moved into this house, my dream house, my very favourite place I have ever lived … and it has no carpet whatsoever!
After we moved in, for a fleeting moment, I thought of cleaning all the floors Japanese style (see this video) but, hahaha, nope. Not happening. Our hardwood floors became dirty very quickly with mud, dirt, food, and whatever else the kids spilled and tracked in. So I started asking around, checking Consumer Reports, asking everyone I knew about it.
Let's skip all the boring stuff and get to the point: the Eureka Enviro Hard-Surface Floor Steamer is the very best floor steamer you can buy on a budget, bar none. It works just as well or better than most other floor steamers that cost a lot more. I bought a set of 4 extra pads to add to the 2 pads that came with the steamer so we never run out of pads if the floor is extra dirty.
For all the details about why this is the best one, click here to read the most amazing Amazon review ever. It has incredibly detailed comparisons for the other top steamers on the market. It is still my favourite Amazon review to date and has been voted as helpful by almost 6,000 people.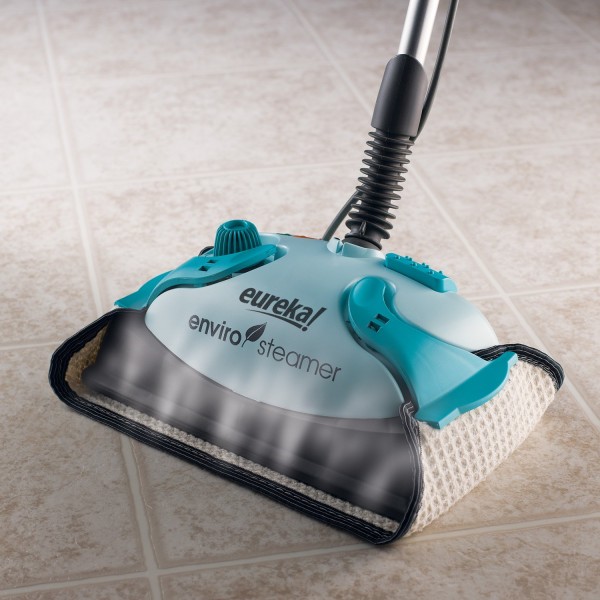 Oh, and to be completely honest, I rarely use this thing. My husband usually steams the floors after we put the kids to bed. I think I will keep him.
Do you have hardwood floors? Tile? Vinyl? As Christmas is approaching, husbands, buy your wife this steamer with a card that says you'll always steam the floors. Trust me, she will love it.